"i never heard such bafoonery, in my entire life."
in theme of the x-mas holiday, id like to congratulate myself for becoming the new VP of Marketing & Promotion over at 4Cast Int. What is 4Cast some may ask? well, we make the Ghostface doll, custom jewelry, and designer furniture(to name a few things). and yes- im STILL on my other grinds(Transworld, contrbuting phtotgrapher and writer for numerous publications, professional skateboarder, producer, yadda, yadda, yadda.. ) lets just say- im moving. and no- i dont fukks with Kayo/Gold Wheels no mo'. Moneys was owed, lies was told... truthfully- ive never seen or heard such bafoonery in my entire life. But best of luck moving forward, and thanks to my man Stevie Williams & DGK, Daughters, Karl Wat', Chany, Kenny, and anybody else i actually like in that building. the rest of 'em, all you get is these 2 bars. man. i swear before the Lawd, if its one thing i fukkin hate- its a liar. the truth will be televised, followed by a revolution.. stay tuned
in gooder news... my man Mr. Len(Company Flow fame, Dummy Smacks CEO, and all around Hustlemaniac) has started his own personal revolution on the music biz. For the next 30 weeks, Mr. Len and the Dummy Smacks family will produce, and release a new song a week on Spitkicker Radio (XM The Rhyme 65) for the next 30 weeks, Craig! well gaaaaaaaaaaaaaaaaaawdamn! i bet yall a mill', the Def Jam brass will have their "men in black" on this asap. fukk a hater. i congratulate. roll the tape on this exclusive Dummy Smacks piFF(remember- you seen it here first!)
yo? was that my n!kka Germ in the vid? Dummy Smacks & Division East is in the building! and by the way- if you broke ass has Sirius Radio, you can hear me on there tonight discussing my business ventures, yapping to a porn star, etc... i told yall- im a big deal damnit! these other cats is liars..
real quik, whos cooler than this dude?
fa'real though.. im saying. the n!kka says words like "red ra'raurri", "oochie coochie", and lastly- look at the Bart Simpson piece. if this dude aint the Dirty Souths version of Ghostface mixed with the Fonz, i dont know who is. "a red ra'raurri".. woooooow. Gucci!
speaking of the A, my little brother D just moved in town and.... well. take a look at his first hour in the crub:
so we walk up to the bar, and my man Mikes sitting there. Micheal Rappaport is black. i dont care what no one says...
we turn around, and boom- its Jereme Rogers and his little brother. "its a Kodak moment, n!kkas hold that thought.." this- is history. real talk.
then im like, "lets go to the dancefloor and see some birds.." and this dude comes outta nowhere..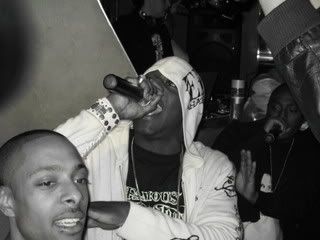 what the fokk! its Young Dro! awww, n!kka, awww! and thats my little brothers 1st hour hanging with me.. actually, that was later in the night after either the Crooks & Castle store opening on Melrose(plug!), or the Dwindle art explosion/video release party in Fairfax.. either way- my little brothers here(as well as my cousin). look alive, and hold ya hoes tight.
nows probly the best time to discuss this- MINORITY REPORT II, COMING SUMMER 08. Anthony Mosely, Anthony Williams, Kevin Taylor, myself, Rashad Turner, Antwan Dixon, Furby, and so forth... fukk it- "its about to be a hot summer.. get my fukkin pool in the back".
before i get outta here, a few more tidbits: im doing Duane Peters neice, throwing my first fashion show in Vegas this february, meeting with Stan Lathan as well as MTV this week to discuss a reality show, starting a multi-media distribution company in January 08... oh my Gawd! the movements moving! you can all get down..
its like that maaaan, its like that! im out fa'real this time. got some twerk to do. and if you see my video on the in'nuhnet for sale- dont buy that shyt, and holla at a playa. somebodies out here trying to make some side dough on piFF, and.. well. just stay tuned. jeah!