tried to told yall, suh'tin..!
i told yall- i gawt em hatin, talkin like Plies! i would read the comments from last post, but i aint study'hn yall right now.. i got shyt to do.. and realistically- i could give a shyt at this point. i mean, look at this gwoy?!?!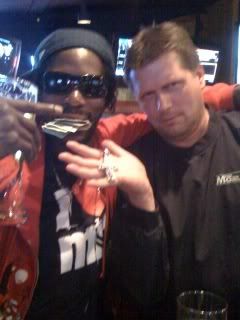 big shout outs to both
Eric(pictured above), and his lovely wifey Penny of Ollie and Co. Indoor Park,
for having the Gawd in Minnesota this weekend. i was up here hosting Ollie & Co "Summons of the Skate Gods" event- and.. man. just wait til i put this
Transworld
piece together! thanks to all who came out, especially the parents. Minnesota- I wish the rest of the world was like yall. real tawk. yall are some dame good people..
ok. story time.
yesterday, i wake up at 9am, and cracks open a Pabst while waiting for my Tostinos to heat up. 4 beers, and one gas station later, im holding a
5hour energy drink
. seriously- thas the bast drank, ever. oh yeah. i think there was some motrin in hand, but thas irrelevant. 5 hour energy(plug). moving on. I have my buddy Tim film me splash down the 5 hour in one swig, and off to the contest we go. or so, we think. on the way to the contest, i decide to "make art" of this lake. lakes make good art. after arting it up with the DigitalX cam, i decide to make a call. im searching for the phone, and Tim goes "oh.. you didnt get it off the top of the car?". uuuuhhh.. no! fokk. we turn around, what seems to be an hour but actually a 1/4 mile later. pull up to the store- no phone where we were parked. no phone where we turned. i see a kid running, and wanna tackle him. i KNOW he doesnt have the phone, but i wanna rush him. idiot. anyhow. the show must go on, and off to Ollie and Co, we go. on the way back, our personal pizza muching hater Dana goes, "hey.. whas that on the bridge..?". we pull over. and i swear on my lil brother Mark(RIP)- the exact spot i too the photo(mind you- we were driving at 65mph)- theres my phone! scratched. dropped. a few dents. but its my damn phone! on the side of the highway! and to add to the story, before i run out to grab it(all on film)- theres a guy 20ft in front of me, with a damned metal detector. now- i tried to told yall. im Gawd body. you mad, Scooby. hit me on that Blackberry!
damnit! i got a plane to board. before i forget- thanks to
Dan @ S-One
for hooking the trip up norf up.. and thanks to Tim roomates who let me teach them karate @ 4am. yeah. i know Karate. yeah. i can knock, or kick you the fokkk out. yeah. this is the first time ive ever said it. who cares. now you know. ill stand on one foot, and kick a 7ft high cabinet closed- every try.
anybody ever seen a albino squirrel..? ugly lil summa'muhbish. i got one on film.
look.. i got people to see. planes to catch. and one life to live. if i was you- id hate me too! i mean. whats a fool to believe. know what? here. imma leave yall with this.
im out.. ill holla. oh yeah. ill be here this weekend.
im really out this time.
sike..
go to this lank. these gwoys are the newness.
plus. theyre funny.
everyday. i hustle
.... tried to told yall, suh'tin..!